Orangeries and Conservatories
Orangeries and Conservatories, Award Winning Designs
Bespoke orangeries and conservatories from Britain's best designers
We're proud to offer you hardwood Orangeries and Conservatories in natural oak and many different designs here at Richmond Oak Conservatories. Our award winning designers and architects are passionate about transforming the look and feel of your property so contact us today if you would like to find out more about our orangery prices or design options. Our specialism in unique seasoned oak orangeries is unparallelled in the industry.
The Popular Trend for Orangeries and Conservatories
Orangeries, conservatories and sunrooms became popular in 17th century in Holland. The love for glass houses soon travelled to Britain and since the orangeries and conservatories trend began, we've never looked back. With such a rich history in glass house construction, we can now offer you a unique oak orangery in various styles and colour combinations to suit your taste.
Benefits of an orangery for your home:
Create a new reception room for your house.
Create space for a dining area or an area to entertain your guests.
Increase your property value up to anything between 10% and 20%.
Add more light to your home with an orangery.
Improve the growth and survival of house plants.
Make your house a desirable choice for potential buyers.
Competitive rates with our orangeries pricing structure.
Take a look at the stunning examples of hardwood orangeries, conservatories and bespoke designs to get some inspiration for your own home. We can offer styles to suit your taste and the latest architecture trends.
Affordable Orangeries Prices at Richmond Oak Conservatories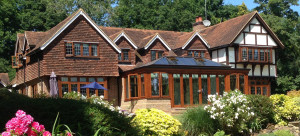 Hardwood orangeries are a fantastic luxury that homeowners everywhere are embracing as grand extensions for entertaining and also for bringing the great outdoors in. Whether you're interested in our oak ora ngeries, conservatories or sun rooms for extending your reception space or for developing your love of gardening and the outdoors, we can offer you a very competitive rate.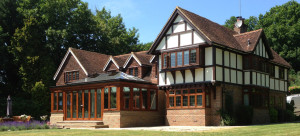 Get in touch with us about our bespoke, tailor-built orangery designs and we will be happy to discuss with you some of the most competitive orangeries prices around.

Bespoke Conservatories & Orangeries
History of the Orangery
The fashion for owning an orangery began early in the 17th century in Holland and was enthusiastically taken up by the nobility in England who wanted orangeries of their own. At the end of the 16th century, relationships between the two nations were close; they had been allies against the Habsburgs and had cooperated in defeating the Spanish Armada in 1588. England had supported the Dutch in the Eighty Years' War by sending money and troops and during this time there was a permanent English representative in the Dutch government to ensure coordination of the joint war effort.
With such friendly relationships, there is little surprise that the novelty of an orangery crossed the North Sea before the 1st Anglo-Dutch war started in 1652 and diplomatic and trading relations were severed.
The Earliest Orangeries
However, the history of the orangery predates this and the earliest orangeries were probably Italian or French. There is a record of flowers being grown in a glass pavilion facing south in France as far back as 1385. But this was not exactly a new concept; the Romans had built rudimentary greenhouses out of mica to force cucumbers.
However, it was the establishment of the first European Botanical Gardens in 1544 at the University of Pisa and in 1545 at Padua, coupled with the growth in botanical studies and the age of exploration, that really encouraged the beginnings of orangeries and protected gardening.
Orange As A Word
This development ties in with the introduction of the word for an "orange" into European languages. "Orange" is derived from Sanskrit and its first appearance in the English language dates back to the 14th century.
At the same time, Portuguese traders introduced sweet oranges into Europe having brought them from India. These sweet oranges quickly replaced the bitter ones that were cultivated at the time.
Before the English-speaking world was familiar with the fruit, the colour we now call orange was referred to in Old English as geoluhread, which translates into Modern English as yellow-red. It wasn't until 1542 that the use of the word as a colour, as derived from the fruit, made an appearance in English. It is likely that this adoption of the word to describe a colour is tied to the popularity of the orange as a fruit, initially known to merchants and royalty, together with their servants and later to the masses.
The Arrival of Oranges in England
The first record of oranges reaching England dates from 1290, when a Spanish ship loaded with them arrived at Southampton. Apparently, Queen Eleanor of Castille, wife of Edward I and Spanish by birth, purchased seven. When Henry VI, crowned in Paris in December 1431, arrived in England in February 1483, the Mayor of London, "with alle the craftes of London, clad alle in white", organized a pageant in his honour. This was recorded at the time in a poem by Lydgate entitled Pur le Roy:
Alle tyme of year, fulle of fruit lade,
Of colour hevenly, and ever i-liche newe,
Orengis, almondiis, and the pome-garnade,
Lymons, datez, ther colors ffreshe and glade,
Pipus, quinces, blaunderelle to disport,
And the pome-cedre corageos to recomfort.
The early oranges that arrived in England would have been the bitter Seville Oranges, nothing was wasted in the growing of oranges and maximising their usefulness. The blossom was dried and used to make orange flower water, sometimes known as orange blossom water, and fruit that was unsuitable for export would be used to fill pots of dried orange-peel.
Fresh oranges would also be supplemented by whole oranges conserved in sugar-syrup, this was known as Succade. Andrew Boorde, a noted physician and traveller in Europe wrote, "Oranges doth make a man to have a good appetite, and so do the rinds if they be in succade."
Nevertheless, they were still a luxury fruit and any lady of the house or her cook would ensure that no parts of fresh oranges arriving in the home would be wasted. Peel would not be thrown out or composted! The cook would have to make a homemade succade or wet sucket when the peel remained in the syrup and sucket candy when allowed to dry. Both would have been eaten at the end of a meal on special occasions or at banquets.
Marmalade was imported from Portugal in the 15th century and by 1495 this was in sufficient quantities for duty to be charged on it. As the popularity of dried and preserved oranges grew, so did the demand for fresh fruit that hadn't suffered in a journey by sea and cart from the Mediterranean. The demand by the nobility to have oranges grown by their gardeners would eventually lead to the building of Orangeries.
However, oranges were still rare in early Tudor England (1485-1603) but became more familiar by the end of the period and the reign of Elizabeth I. Shakespeare refers to them several times, once in Much Ado About Nothing first performed in 1588-89.
Soon after oranges were becoming a familiar fruit to the general population. Nell Gwyn and her sister Rose had been hired in 1663 by Mary Meggs, a former prostitute with the nickname "Orange Moll", as "orange-girls", selling the small, sweet "china" oranges to the audience for a sixpence, inside what is now the Theatre Royal in Drury Lane in London's Covent Garden.
Meanwhile in Samuel Pepys Diary there is an entry for Tuesday 19th April 1664, where Pepys writes, "walk with Creed and Vernaty in the Physique Garden in St. James's Parke; where I first saw orange-trees, and other fine trees."
The Earliest English Orangery
The first English Orangery was built for Sir Francis Carew for the garden of his home in Beddington, Surrey in about 1580.
Sir Francis was a keen gardener and it is probable that friends returning from overseas visits supplied orange seeds to him.
The seedlings were raised in pots until hardy enough to be planted in open ground and then preserved in winter by a moveable covering; a sort of portable orangery.
In August 1599, Queen Elizabeth I visited Sir Francis and stayed for three days, so she may have seen and even tasted the oranges. Sir Francis's account book has an entry dated 10th January 1608: "Paid to Sadler for halfe a daye sweepinge downe the sknowe of the orringe howse iiijd,"(four pence).
After Sir Francis died in 1611, Sir Walter Ralegh's son, Carew Ralegh became the guardian of Sir Francis's son and responsible for the estate at Beddington. The account books show in January 1652 he paid £7 for repairs to the stove in the 'orange house' and £60 to "Constable ye Carpenter for building of a new orange house." According to the Retail Price Index, £60 in 1652 is equivalent to £6,900 today, so either the orange house was quite small or Ralegh drove a hard bargain.
The orange trees flourished for over 100 years and it wasn't until the winter of 1739 that they were destroyed by The Great Frost that lasted from Christmas Day until 17th February in the new year.
Orangeries In The 17th Century
The fruit was known and importation of the trees was not far behind. Merchants began to import orange trees, perhaps as novelty to show off their wealth, from Southern Italy together with other citrus trees, banana plants and pomegranates. None of these would survive a Northern European winter so gardeners had to find ways of protecting the plants and in due course the first orangeries were constructed.
The orangeries were built with south facing glass windows to let in the maximum amount of afternoon sunlight. The windows would have been made with leaded glass and as glass was still blown by hand, the largest flat pieces that could be made would have been approximately 4 inches by 6 inches (10 cms x 15 cms). These windows were set into brick walls while those that faced north were thick and solid to protect against wind and cold.
Plants were grown in tubs so that they could be moved outside in the summer and to allow this tall and wide double doors were necessary. The windows and the doors of the conservatories would have been opened to let in warmth and air when the weather was mild.
To ensure the survival of sensitive plants in Northern European winters insulation was essential. Straw would often be used to insulate the roof and shutters put across the windows at night. On really cold days and nights coal braziers would be used to warm the orangery although care had to be taken with ventilation and damage to the plants from fumes.
Only the wealthiest families, or well-endowed universities could afford the substantial cost of maintaining their collections of rare and unusual plants through cold Northern winters.
One of the richest families in Europe at the time was that of Fugger in Germany. They had built a conservatory in 1535 and perhaps they were a link in the march of the orangery northwards to the Netherlands and England.
Jan Commelin (1629-1692) became a Professor of Botany in the Netherlands at a time when many new plants were being imported from Africa, India and even from southern Europe. He developed many important contacts and made a fortune selling his exotic herbs and drugs to apothecaries and hospitals in Amsterdam and other parts of the country.
Commelin played an important role in the development of the tropical hothouse in the later years of his life. In 1676 he published Nederlantze Hesperides, a book that described the propagation and growth of the citrus. In it he describes the importance of the orangery and how it should be heated in winter to protect the orange trees.
Continuing this work, in 1703, Hendryck van Oosten, gardener at the Hortus Botanicus, published The Dutch Gardener, in which he wrote "A particular Account of the Nursing of Lemon and Orange Trees in Northern Climates." saying:
"There is not a Plant or Tree, that affords such extensive and lasting pleasure; for there is not a Day in the Year when Orange-Trees, may not, and indeed ought not, to afford matter of Delight: whether it be in the Greenness of their Leaves, or in the Agreeableness of their Form and Figure, or in the pleasant Scent of their Flowers, or in the Beauty and Duration of their Fruit."
Orangeries In The 18th Century
Perhaps it was this that persuaded Queen Anne to build her orangery at Kensington Palace in London in 1704-5. Queen Anne had come to the throne in 1702 on the death of William III; also known as William III of Orange He was a Dutch aristocrat and had plants imported from around the world.
The design of the Kensington Palace orangery is attributed to Nicholas Hawksmoor and was modified by Sir John Vanbrugh. The magnificent interior was decorated with panelling, 24 Corinthian columns, all painted white and Grinling Gibbons woodcarvings. It still retains its original Portland stone terrace. The estimated cost was £2,599, but this had more than doubled by the time work was completed. (Today an orangery will cost you a little more, but we can guarantee that the price will not double during construction!)
The Orangery at Kew was built in 1761. At the time it was the largest glasshouse in Britain 92 feet long by 33 feet deep (28 m x10 m), and though it was designed as an arcade with end pavilions to winter oranges, the light levels were too low under its solid roof for it to be successful.
At this time larger glass panes started to become available up to sizes 10 inches x 16 inches (25cm x 40cm). In 1737 glazing putty was first made in The Netherlands from chalk and linseed oil and this enabled panes to be more weather proof and provided greater insulation than the leaded windows made up of smaller panes used previously. There had also been concerns that lead was toxic to plants, so the use of putty became more prevalent.
An Early American Orangery
One of the earliest American orangeries was built in Annapolis, Maryland in about 1770. No longer standing, it was discovered by archaeologists while excavating Calvert House once home to early Governors of Maryland. Parts of the property date back to 1695. The first Calvert to move into the house was Capt. Charles Calvert who had been sent eight years earlier to govern the colony by his cousin, the 5th Lord Baltimore.
Several years later another family member, Benedict Leonard Calvert, took over the Governorship and made many improvements to the house including the addition of an orangery. It had brick channels underneath the floor connected to a fireplace and had turned red from continued exposure to heat. This type of heating system was first developed by the Romans and is called a hypocaust, from the Latin hypocaustum, from the Greek hypo under and kaiein to burn.
The orangery was 10 ft square and the hypocaust 1 1/2 ft deep. You can view it through a glass floor in the Governor Calvert House, a luxury hotel that is on the site today. Photographs of the excavations are at the University of Maryland website.
The Renaissance of the Orangery
During the 19th century, some orangeries had sophisticated under floor-heating systems. But the popularity of the orangery was declining. They needed to be located in large gardens with an uninterrupted south-facing aspect. This meant they were generally separated from the main house, while a conservatory could be connected to the property and the contents displayed more readily for the benefit of the family and their visitors. The tax on glass was also abolished in 1845 and in 1851 the building of the Crystal Palace for the Great Exhibition fired the enthusiasm for conservatories.
Today the word "Orangery" is applied more generally and usually refers to a building with glazed sides, built on a brick or wood support, with a partially glazed roof. It will usually be attached to the main house and used as room and not just for plants. They differ from a conservatory principally because there is less glass used in their construction.
Many of the 18th & 19th century orangeries have been restored and are now used as restaurants or places of entertainment. This is exactly how their modern counterparts are being used today as extensions to hotels, restaurants and private homes. This has been made possible by the emergence of a new wave of technology including double-glazing, self-cleaning glass, solar glass and under floor electric heating that just costs pennies to run. All these features make orangeries easier and cheaper to maintain and heat today and this together with their stylish good looks and elegance has helped the growth in their popularity.
Some Notable and Interesting Orangeries
The orangery at Margam Park is listed Grade I as one of the finest classical buildings in Wales.
At Kew Gardens the orangery built in 1761 is the largest classical style building in the Gardens.
The orangery at Kenwood House dates from about 1750.
Orangery in the National Botanic Garden of Belgium built around 1860.
One of the two largest Baroque orangeries (the other is at Versailles) in the world can be found at Schoenbrunn in Austria.
A charming Georgian Orangery at Heveningham Hall in Suffolk.
©Richmond Oak Conservatories Ltd. You are welcome to use this article for research, but please acknowledge your source with a link back to this site in any published material.