Sunrooms
BESPOKE SUNROOMS & GARDEN ROOMS

Relax in one of Richmond Oak's Sunrooms or Garden Room
Sunrooms are an American term rather than an English one, but we think it's one we should be happy to import as it perfectly describes what we build. To get some inspiration just take a tour of this famous sunroom at the White House.
A sunroom is more frequently described in the UK as a Conservatory or Garden Room, with others known as Orangeries. Basically they are all designed to bring more sunlight into the home, even on those days where it is cold outside. A conservatory roof is fully glazed whereas a garden room is the description usually given to a conservatory with tiled or slate roof. The benefit of a conservatory over a garden room, is that more light will pass through to the room behind, which can become quite dark if covered by a solid roof sunroom.
Sunrooms let you bring the outside in, but without the rain, breezes or winds that can spoil your enjoyment when simply sitting in the garden. And a sunroom will extend your enjoyment of the garden at both ends of the year, letting you enjoy spring even on chilly days and cool autumn evenings.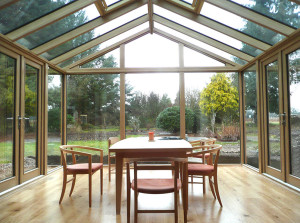 No wonder for many people, the sunroom becomes their favourite room in the house. Imagine how you can enjoy a sunroom as a family room, a playroom for young children, a dining area, or simply the perfect place to relax and unwind.
Richmond Oak are reknowned for our quality seasoned oak construction and we are able to design in traditional conservatory styles or more contemporary conservatory designs can be achieved using our patented Contemporary conservatory range. Our direct glaze Contemporary Conservatory range provides unique features whereby the glass is direct glazed into 110mm square posts. *"UK Patent GB2483519 & European Community Design Registration No 001754722″
To find out more about sunrooms Contact Us now.